Events we are hosting for our ComplyWith community
Unplugged will be held at Te Papa on 3 November this year. With Sir Ashley booked in as our keynote speaker, it promises to be a great day of learning, connecting, and sharing. We'll send out details closer to the time, but please mark it in your diary now.
A little background to the photo above. It was late February 2020 and Ashley had finished an overnight riding trip on the Paparoa Track and was looking forward to starting the Old Ghost Road ride the next day. Just after this photo was taken, he received an urgent call from the Prime Minister's office saying that the COVID situation was escalating. Ashley was on the next flight out of Westport back to Wellington.
In May and June, we'll be hosting User Group meetings throughout New Zealand on the following dates:
26 May Wellington
29 May New Plymouth
30 May Hamilton
2 June Auckland
15 June Christchurch
16 June Dunedin
We'll send out more details about the User Groups in a few weeks time.
Events ComplyWith is sponsoring and attending in 2023
We find conferences are a great opportunity to connect with many of our customers. This year we're sponsoring the events below. If you have a suggestion for an event you think it would be good to see ComplyWith at, please let us know.
LawFest 23 – 1 June 2023 in Auckland
LawFest is New Zealand's biggest legal innovation and technology conference. ComplyWith will have a stand, so do come and say hello if you are attending LawFest.
Also, at LawFest, David Woodnorth our Founder and Leader, will give a TechTalk about the crisis of complexity in the law and how delivering clarity using technology is a forging brighter future.
ILANZ (In-house Lawyers) Conference – 27 and 28 July 2023 in Tauranga
Once more we'll be back at the ILANZ conference – it's about the 10th ILANZ conference ComplyWith has sponsored.
Like last year, ComplyWith is also sponsoring the ILANZ Community Contribution Award. This recognises an In-house lawyer or in-house legal team who has made an outstanding contribution to the profession or to the community beyond their "day job".
Last year the Community Contribution Award went to Sarah Thorner Crossley, senior lawyer at Zespri and co-chair of Film Bay of Plenty. Below is Sarah with members of the ComplyWith team.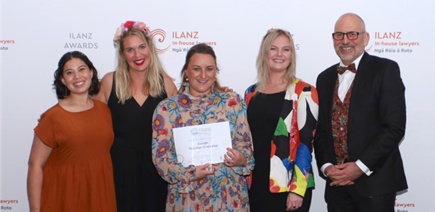 ALGIM (Local Government Information Managers) conference – 14 and 15 November 2023 in Wellington
We really enjoyed our first ALGIM conference last year and can't wait for this year's conference.
It's a bonus that this year's conference is at the new Takina Conference Centre, just across the street from our Wellington office.