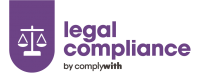 Clarity of your legal obligations and risks
When people in your business are clear about what the law requires, they can do things right and they can identify your legal risks.
Online compliance reporting helps keep the importance of doing things right top of mind, and provides insights and comfort to business leaders.
Pro-active management of corrective actions means visibility of how legal compliance risks are actually being resolved - how many compliance manuals or spreadsheets do that?
LEARN MORE
Benefits of using the ComplyWith platform
In one place
A single sign-in for your people to access all your compliance and reporting tools in one familiar place.
Ease of use
Each tool shares a common user experience DNA so the tools all feel familiar and are easy for your people to use.
Cloud-based & secure
ComplyWith's tools are delivered via secure cloud-based facilities. Always on the latest version. Support is super-responsive and personal.
One set of users
Having just one set of people, positions and hierarchy to maintain helps make running the tools super-easy.